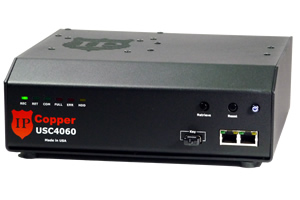 IPCopper USC4060
Continuous full packet capture appliance
GbE (1000BASE-T) 10/100/1000Mbps
The data captured by packet capture appliances such as the USC4060 provide the informational foundation for a wide variety of network-related tasks. The IPCopper USC4060 is a multi-purpose appliance, capable of delivering high-performance, secure, long-term packet capture for network security, network forensics, network monitoring and SLA (service level agreement)-type monitoring for internet-based products and services.
The packet capture appliance features a large memory capacity of 4 TB; once it reaches the 4 TB capacity it starts over from the beginning, overwriting the oldest captured data with the newest. In the meantime, however, the captured data cannot be modified or erased. In essence, the USC4060 provides organizations with continuous, uninterrupted full packet capture, giving them a snapshot of the most recent 4 TB of Ethernet/IP activity that passed through.
The unit can capture packets at much higher sustained speeds than many other packet capture alternatives, with a minimum sustained capture speed of 400 Mbps, minimum sustained packet rate of 165,000 packets per second and peak capture speed of 1 Gigabit.
Given the potentially sensitive nature of the data captured by the USC4060, its integrated security features include complex, always-on dual encryption with a 20,000 bit removable external key. The unit itself has neither an IP address nor a MAC address; there is no way to assign them to it and it cannot respond to pings or other attempts to elicit a response.
The USC4060 is also well suited for deployment in conjunction with IPCopper USC1030, USC2030 and USC10G24 models to implement a system of panoramic forensics. It can be used to monitor assets within the network — not just at the perimeter — providing additional visibility into Intranet communications and individual workgroup and network segment activity.
Simple installation, versatile operation
The USC4060 packet capture appliance is extremely easy to set up, requiring only the simple connection of a few cables and press of a power button. The appliance can be placed anywhere on a network, either inline or in a SPAN configuration, with minimal effort. Unlike traditional network taps, IPCopper captures network traffic simultaneously in both directions, so that it would be reconstructed exactly as it occurred. No configuration of the appliance or the network is required and its presence will not affect network speed, flow or topology. This ease of installation and unobtrusive, stealthy profile also makes the USC4060 ideal for troubleshooting VoIP, web, cloud and other IP-based applications, particular since the packet capture appliances provides the raw data showing exactly how the applications are performing, without distortion.
The USC4060ís versatility is further enhanced by the ability to use any third-party software of your choice to analyze the capture data. Retrieving data from the unit is easy; the supplied Windows-based command-line utility securely downloads a PCAP file for a specified date/time range via an encrypted connection. From the time of the initiation of a query from the command-line utility it takes less than ten seconds to begin receiving data; the length of time necessary to complete a download depends on the amount of data requested (read more about data retrieval).
Peak Capture Rate: 1 Gbps
Min. Sustained Capture Speed: 400 Mbps
Min. Sustained Packet Rate: 165,000 packets per second
Jumbo Frames Support: Up to 9KB
Memory Capacity: 4 TB (actual storage available for captured data, less overhead - read more about storage capacity)
Automatic data indexing (less than 10 seconds to receive first byte of a request)
Network Interface: 2 x RJ-45 10/100/1000Mbps
Processor: Intel dual core
Supported Protocols: TCP/IP, UDP, ARP, POP3, SMTP and others that use underlying Ethernet or Ethernet framing as transport
Flow Control: Supported
Encryption: dual encryption, using removable, external 20Kb key
Enclosure: Tamper-proof, sealed 12 ga. metal
Weight: 5.5 lbs
Dimensions: 3" x 9" x 9.25
Optional features
Many custom and optional features are available, including, for US government and law enforcement agencies only, the ability to set up alternate filter-based encryption, to protect the privacy of non-targeted traffic. For more information, please contact us.
Production Status: Available
MSRP: $3,999.00. Buy from Amazon.com.
Your first unit directly from IPCopper is only $1,999: Download Order Form.
For customization, goverment, educational or direct purchases, please contact us.
IPCopper: Achieving Data Security through Knowledge